Introducing Wolf Gourmet, countertop appliances and kitchen tools offering professional features, timeless styling, and the attention to detail you have come to expect from Wolf. This collection of precise instruments will allow you to prepare every meal with confidence.
Wolf Gourmet countertop appliances are created with the attention to detail you have come to expect from Wolf. We believe the gratification of cooking doesn't begin with the finished meal, but with its preparation. Revel in each step of the process using our high performance appliances designed to withstand the rigors of any kitchen.
Wolf Gourmet Countertop Oven
The Wolf Gourmet countertop oven with convection makes roasting mouthwatering tenderloin as easy as it is in a Wolf range. The integrated temperature probe gives you the precise control to roast meats to perfection without ever opening the oven door, and the unique perimeter convection mode ensures uniform heat throughout the oven. You will enjoy faster, more consistent, more predictably delicious results for your baking, roasting, and broiling. This oven will perform expertly for years to come.
WGCO100S $499.99
Whatever your taste, the Wolf Gourmet blender will craft what you crave. It offers complete control for complex recipes and pre-programmed settings for one touch smoothies and soups. Infinite speed control and quiet design are just the beginning.
WGBL100S – $549.99
Wolf Gourmet toasters are crafted with advanced toasting technology. We equipped the toasters with unique self-centering bread guides to deliver perfectly even results, regardless of bread type. Enjoy crunchy English muffins, golden toasted crumpets, brioche with a hint of color, or crisp and chewy bagels. You choose the browning with the precise control of the shade selector knob – from light to dark and everything in between. This is high performance toasting, every time, from Wolf Gourmet.
4 SLICE TOASTER – WGTR104S = $349.00
2-Slice Wolf Gourmet Toaster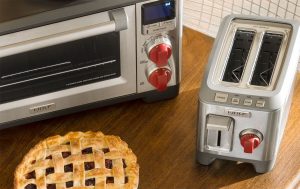 Welcome to high-performance toasting. Bread has met its match with the Wolf Gourmet Two Slice Toaster, delivering perfectly even results every time. Enjoy crunchy English muffins, golden toasted crumpets, brioche with a hint of color, or crisp and chewy bagels. Seven toast shade settings let you decide.
2 SLICE TOASTER – WGTR102S = $259.00
Wolf Gourmet offers new ways to master your kitchen with its collection of precision cutlery and multi-clad stainless steel cookware. Beautifully crafted with performance and quality to match, these trusted culinary companions will inspire confidence to ensure delicious results every time.
Wolf Gourmet cookware blends high performance multi-clad stainless steel with elegant, ergonomically designed handles for an unequaled combination of form and function. All of our cookware is crafted in the USA and designed to last a lifetime.
COOKWARE – 10-Piece Set – WGCW100S = $899.99
PROPRIETARY 7-­PLY CONSTRUCTION
The robust seven-ply construction provides faster heating and excellent heat retention. This proprietary construction also eliminates hot spots and goes from cooktop to oven effortlessly so your fresh ingredients cook evenly every time. Each piece of cookware is the same thickness and constructed with all seven layers extending fully up the sides to heat food evenly from bottom to top.
All seven layers extend fully up the sides of each pot, pan, and skillet for the most evenly cooked sauces, stews, soups, risotto, and grains.
An aluminum core is surrounded by layers of pure aluminum and additional layers of durable 18/10 stainless steel providing high-performance results every time.
The cooking surface is non-reactive and all pieces are oven safe to 500°F.
CRAFTED FOR COMFORT
Equipped with sturdy, ergonomic handles that fit a variety of hand sizes, this high-performance cookware is very comfortable to use. Helper handles on the sauté pan and 11.5 inch skillet make transferring cookware to the oven much easier. The tight-fitting lids have large, easy to grip handles.
DETAILS THAT MAKE A DIFFERENCE
Beveled walls keep ingredients from sticking in the corners so your delicate sauces are silky and smooth, handled with the care they deserve.
When you're ready to serve, the stainless steel cooking surface releases foods just as expertly as it cooks them.
Gently flared rims facilitate drip-free pouring of sauces, reductions, or broths. The stainless steel cooking surface will not react with food and can be used with metal utensils.
AMERICAN CRAFTSMANSHIP
Wolf Gourmet cookware is crafted with great attention to detail and an uncompromised dedication to creating exceptional products. A lifetime limited warranty ensures years of confidence in the kitchen.
Wolf Gourmet cookware is an unequaled combination of form and function crafted to deliver delicious meals for years to come.
Whether you're creating a four course menu or a last minute meal, Wolf Gourmet cookware ensures you can cook with confidence.
Combine the best of European and Asian knives? Challenge accepted. Wolf Gourmet cutlery merges the precision of Japanese style blades with the durability of German forging to inspire confidence in the kitchen. Whether you're a seasoned pro, or discovering the pleasure of cooking for the first time, these trusted culinary companions offer performance far beyond your expectations.
CUTLERY – 7-Piece Set – WGCU100S = $699.99
Wolf Gourmet cutlery is meticulously forged and ground using advanced laser technology to ensure a precise cutting angle resulting in a razor-sharp cutting edge. High-carbon stainless steel is used to achieve a Rockwell "C" Hardness of 61 to create an exceptionally durable, long-lasting edge that is also easy to hone and sharpen. The balanced, triple-riveted, full-tang knives are made with resin-infused, moisture-resistant pakkawood handles designed to fit securely and comfortably in the right or left hand.
Wolf Gourmet's 7-piece cutlery set includes all the essentials you need to create delicious meals – knives, kitchen shears, honing steel, and a gorgeous hardwood storage block to keep your tools at the ready. Merging the precision of Japanese-style blades with the durability of German forging, our cutlery set will inspire confidence in the kitchen. Preparing meals will go from dull to delightful as you mince, slice, carve, and dice with precise control.