From the simplest dishes to complicated menus, KitchenAid  kitchen counter-top appliances will help you make the most of your ingredients. Whip up brunch with ease when you have our coffee makers, toasters and blenders. Share your culinary prowess with slow cookers and multi-cookers perfect for potlucks. Make your own sauce or salsa with food processors, or mix up something new and exciting with our hand mixers and blenders. Whatever new recipe or technique you want to tackle, KitchenAid has you covered with small appliances that can make a big difference.
Pro Line® Series 16 Cup Food Processor
Pro Line® Series Stand Mixer
Digital Countertop Convection Oven
7-Speed Digital Display Hand Mixer

KitchenAid offers a variety of solutions for all of your kitchenware needs. Our collection of cooking equipment includes all of the essential staples: from bakeware to kettles, cast iron to pots and pans — there are a multitude of kitchenware options from which to choose.

From pies to muffins, casseroles to cupcakes, KitchenAid bakeware and baking accessories will help you get any baking job done. Our baking pans have a nonstick, PFOA- and PTFE-free coating for easy cleanup and long-lasting bakeware performance.
Whether you're looking for the ease of nonstick pans, the performance of stainless steel, or just a desire for a pop of color, KitchenAid offers a large selection of individual cookware pieces as well as full cookware sets to help make your next meal a culinary success.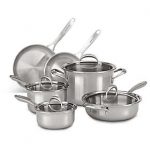 KC2CS10ST – Copper Core Stainless Steel 10-Piece set = $599.99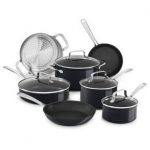 KC3H1S08TZ – Hard Anodized Non-Stick 8-Piece set = $119.99
KC3H1S11BE – Hard Anodized Non-Stick 11-Piece set = $159.99
KC3H1S11TZ – Hard Anodized Non-Stick 11-Piece set = $159.99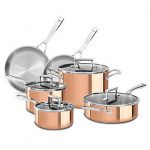 KC2PS10CP – Tri Ply Copper 10-Piece Set = $519.99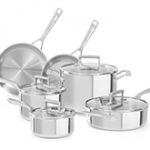 KC2TS10ST – Tri Ply Stainless Steel 10-Piece Set = $369.99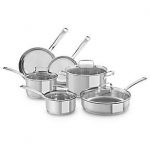 KC2SS10LS – Polished Stainless Steel 10-Piece set = $119.99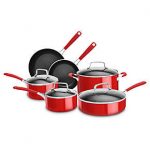 KC2AS10ER – Aluminum Non-Stick 10-Piece set (Empire Red) = $124.99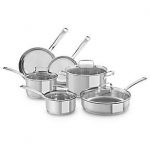 KC2AS10OB – Aluminum Non-Stick 10-Piece set (Onyx Black) = $124.99
CUTLERY THAT'S A CUT ABOVE THE REST
Slice, dice, peel, and chop like a chef with cutlery options that are cut out for any culinary task.
PROFESSIONAL SERIES CUTLERY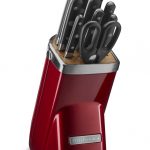 Forged from German steel and block assembled in the United States, the KitchenAid Professional Series Cutlery collection allows for exceptional control and precision while cutting, chopping and slicing anything your recipe calls for.
KKFMA11OB – 11 Piece Professional Series Cutlery Set = $299.99
KKFMA07OB – 7 Piece Professional Series Cutlery Set = $219.99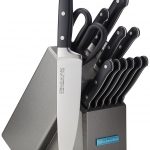 This KitchenAid premium collection of German stainless steel knives provides precise control, extreme durability, a choice of two comfort grips and an integrated sharpener. Together, it makes them clear-cut culinary winners.
KKFTR14SL – Triple Rivet 14-Piece Cutlery Set = $79.99
KKFTR16SL – Triple Rivet 16-Piece Cutlery Set = $99.99
KKFSS14BO – Brushed Stainless 14-Piece Cutlery Set = $79.99